We Specialize In Delivering Lasting IT Solutions for Wisconsin businesses.
Our Mission Is To Take Care Of IT, So You Can Focus On What Really Matters
Why Our Clients Work with Us
Predictable Budgeting
We offer managed service plans, retainers, and block rates so you can plan ahead while saving money with no onboarding fees.
IT Expertise
Our team has 20+ years of experience in information technology that will move your business in the right direction to pursue and achieve growth.
Personal Attention
Customer service is our priority. You'll receive personal attention on projects, implementation, support—we are with you every step of the way.
Industry Designed Software
Our software solution is tailored for the paper industry, making it a perfect fit for a paper business in need of more production visibility and processes.
Fast Response Time
We provide a timely response from our IT support team, consultants, developers, or other team members with a commitment to exceptional results.
Process Engineering Specialists
We make sure to understand your needs and struggles to get your business the solutions it needs. Our team has hands-on and many years of experience to analyze and improve your process.
The HawkPoint Technologies Mindset:
Taking IT Off Your Mind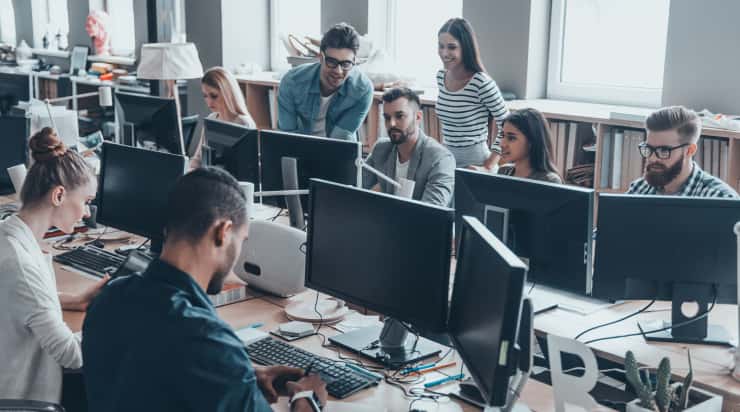 HawkPoint Technologies provides affordable and comprehensive managed IT services for small to medium-sized businesses. Our team of experienced professionals can manage all aspects of your technology infrastructure, from hardware and software maintenance to network security and cloud computing.
We understand that managing technology can be time-consuming and costly. That's why we strive to make it as easy as possible for our clients to keep their IT infrastructure up-to-date and secure. Our managed IT services are designed to give business owners peace of mind knowing their technology management tasks are in the hands of experienced professionals.
The HawkPoint Technologies Code
Communication
Know your audience and speak to be understood. Listen to understand and retain knowledge. The goal of all communication, spoken or written, is to ensure a mutual understanding is achieved.
Ownership
Work as though you own HawkPoint. Own the task and all possible outcomes. Be proactive and always contribute your own ideas.
Direction
Give and insist on being given proper direction. HawkPoint needs thinkers. Respectfully challenge direction given, but also respect decisions made and work toward our common goal.
Ethics
Act in HawkPoint's best interests.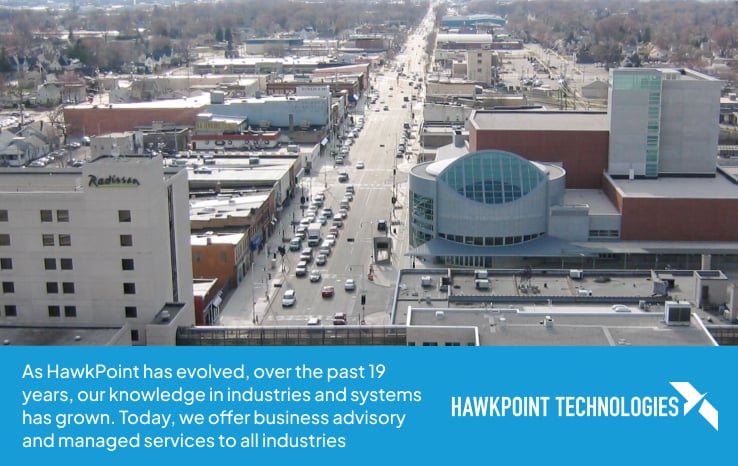 HawkPoint Technologies was founded in 2003, with a software specifically for paper converting. Our in-depth knowledge of both the paper industry and manufacturing operations allowed us to design tailored solutions to overcome the unique challenges found within these industries.
As HawkPoint has evolved over the past 19 years, our knowledge in industries and systems has grown. Today, we offer business advisory and managed services to all industries. We do still offer our paper and printing software solution, but this is only one of many tools that we use to optimize efficiency, improve processes and streamline technologies, for businesses throughout Wisconsin and the United States.
Take a look at some of our biggest success stories
Our Mission
Excellence: at our very worst, we will provide exactly what was promised. At our best, we will exceed all expectations.
Our Vision
Products and services that are worth it, provided by knowledgeable business professionals, who always act in the best interest of HawkPoint and HawkPoint's customers.
Let's Start Planning Your IT Journey
Contact HawkPoint Technologies to analyze your IT infrastructure.
Learn more about our business productivity process.
Get a customized IT strategy built just for you.
Watch your productivity levels and customer experience improve.